---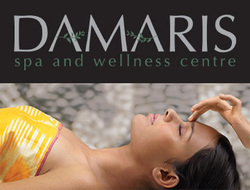 Damaris Spa & Wellness Centre is an Aveda Concept Spa. We offer a full range of services that treat the whole person. We provide hair salon, mani-pedicure, Aveda Facials, Relaxation massage and Therapeutic Massage as well as body scrubs. We offer half day and full day spa packages. Contact us with any questions you may have either by email or phone. Spa Manager is Kim Gould. Her email address is kim@damarisspa.com and our phone number is 902-660-3030.

Damaris also offers a Med-Spa which was formerly known as Amherst Medical Esthetics. We have a Medical Doctor that provides Botox injections and Filler Injections. We have two certified Laser Technicians that have been on staff since 2006.




Please arrive 15 minutes early for all scheduled appointments. This allows time for you to relax and enjoy a cup of soothing Aveda herbal tea.

Cancellation Policy: Please allow 24 hours notice if you deem it necessary to cancel your scheduled appointment. This allows staff to schedule another client that may be awaiting services. Failure to provide 24 hours may require payment of up to 50% of the cost of service.


---